Elevate your travel rewards program — boost customer loyalty, satisfaction and spend
Discover how financial service companies can better leverage their travel loyalty programs to reduce their points liability and grow their business through arrivia's travel privileges platform.
Give customers the rewards options they truly want
Introduce more flexibility to your program
Use your member base to source exclusive travel inventory
Offer a complete travel loyalty experience from the get-go
Download this use case to find out the missing piece of the value puzzle that keeps loyalty programs from realizing their full business potential.
How a Travel Privileges Platform adds value to your program
By integrating arrivia into your existing travel loyalty program, you can: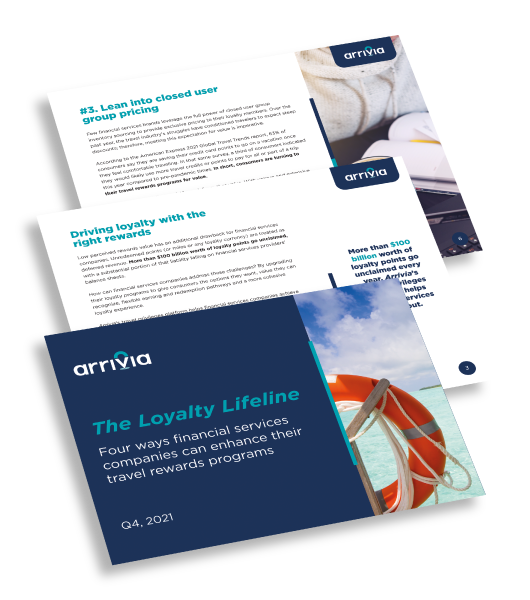 Offer your customers a full range of options like cruise, alternative lodgings and experiences, so that they stay booking and redeeming within your ecosystem.

Offer clearer, more flexible earning and accrual policies that, when combined with a flexible loyalty currency, help burn down your points liability and boost customer loyalty program spending.

Leverage the full power of closed user group pricing to attract new members and deliver the exceptional value your customers deserve.

Provide members with a complete travel booking experience that speaks to your brand and their personal preferences.
Download the use case to learn how arrivia's travel benefits and rewards, travel booking, and marketing and customer servicing solutions can help your financial services company earn customer-loyalty, adapt to the ever-changing travel market, and generate successful revenue streams.