Where travel meets loyalty:
The role of travel rewards in the post-pandemic travel resurgence
Americans are ready to see the world again but not at any cost — value remains a top priority for most consumers. Companies that can deliver that value through travel rewards can leverage the travel boom to grow.
69% of American consumers plan to travel in 2022.
42% have used points to lower the cost of a trip.
49% say earning points on their booking is important.
Read our latest survey report that examines the key trends impacting American traveler behaviors and how they intersect with their views on travel rewards. We also reveal what industry leaders think about their own travel loyalty programs and how they stack up.
Travel rewards: Maximizing the benefit of a loyalty program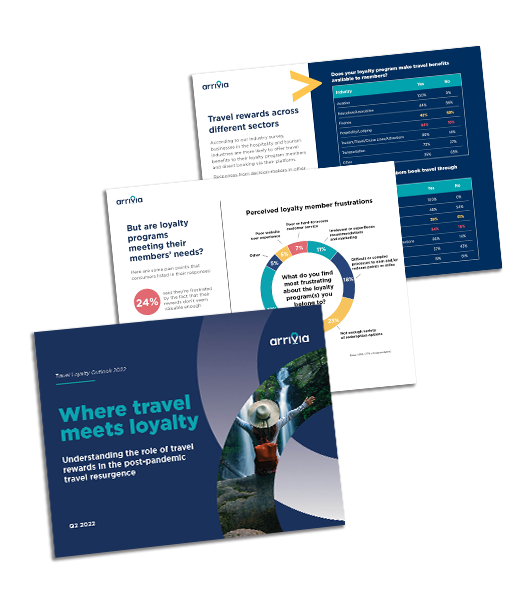 Consumers crave value from their travel reward, but:

24% are frustrated that their rewards don't seem valuable enough.

32% are concerned by the lack of redemption options offered through their loyalty programs.

29% say it's difficult or complex to earn or redeem points.

31% of industry leaders concede that conversion rates would improve if they offered more exclusive discounts.
Travel rewards are important. Probably more than ever. But there's a clear gap between customer expectations and what existing loyalty programs offer. Gain insight into how consumer-facing brands and loyalty programs can bridge that divide.